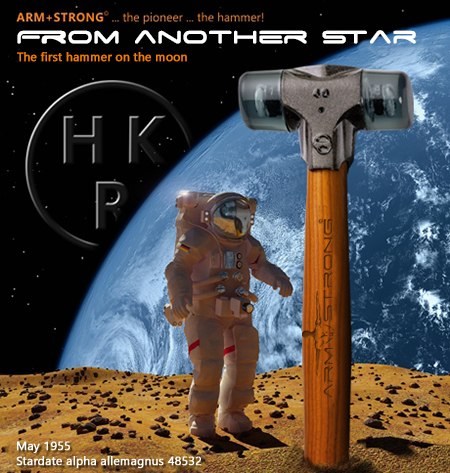 From another star
Strong arm, good heart and gentle fist!
Three Elements - one Pioneer - the new ARM+STRONG©
High traction and targeted transmission
HighCor
©
Hardwood - naturally high-performance fibre-reinforced material
> Impact resistant, flexural strength - withstands mechanical, chemical and thermal stress
> Resistant against pressure and tensile load, low vibration
> Extremely rigid and sturdy, optimum handling without misalignment
MFC
©
(Metal-Force-Cast) 3D-bound steel casting
> Highly resistant, quality structure
> Wear and corrosion resistant
> Integrated handle and head safeguard
Softpulse
©
Composites, nylon/cellulose-materials
> Soft tips prevents marring of surfaces
> Extremely durable, can be combined and converted
> Varying hardness and colours available
German art of engineering
- high-quality manufacturing and ergonomic, fine-tuned material components that guarantee precision without damage!
The new
ARM+STRONG
©
soft-face hammer
Manifests functional aesthetic and impressive value!
The Bionic-Beat-Technology© - force-fitted energy transmission
> Controlled radial force converts directly into striking force
> Perfect handling, minimal swing, precise striking
> For sensitive surfaces, developed especially for final assembly of visible surfaces
ARM+STRONG Hammers
A+S 2850
> With polished, lacquered, contoured Europlus handle
> Heads made of shock-resistant cellulose-acetat, yellow, red or smoky

| | | | | |
| --- | --- | --- | --- | --- |
| Art.-No. | | | | |
| 2852 | 27 | 265 | 305 | 6 |
| 2855 | 40 | 320 | 700 | 6 |
| 2857 | 60 | 380 | 1.895 | 4 |
A+S 2860
> With polished, lacquered, contoured Europlus handle
> Heads made of shock-resistant PA12-Nylon

| | | | | |
| --- | --- | --- | --- | --- |
| Art.-No. | | | | |
| 2862 | 27 | 265 | 305 | 6 |
| 2865 | 40 | 320 | 700 | 6 |
| 2867 | 60 | 380 | 1.895 | 4 |
A+S 2870
> With polished, lacquered, contoured Europlus handle
> Heads made of shock-resistant cellulose-acetat, yellow, red or smoky and PA12-Nylon

| | | | | |
| --- | --- | --- | --- | --- |
| Art.-No. | | | | |
| 2872 | 27 | 265 | 305 | 6 |
| 2875 | 40 | 320 | 700 | 6 |
| 2877 | 60 | 380 | 1.895 | 4 |
A+S 2880
> With polished, lacquered, contoured Europlus handle
> Heads made of shock-resistant Desmopan

| | | | | |
| --- | --- | --- | --- | --- |
| Art.-No. | | | | |
| 2885 | 40 | 320 | 700 | 6 |